The glyphosate is a phytosanitary product absorbed by leaves, classified in the category of weed-killers. It is a non-selective systematic weed-killer, called "total", the most used in the world for the agricultural, urban and industrial weeding. It degrades mainly in grounds. We also find it in the water, the rivers and in groundwaters.
The glyphosate can be present, according to the conditions, under three forms (acid, monovalent, divalent):

The LMR (Maximal Limit of Residue) of the glyphosate include these three forms, and vary according to the type of matrices. A single cation of its salts is regulated this day, the sulfosate. During its degradation, the glyphosate generates a known metabolite: the aminométhylphosphoniq acid(or AMPA).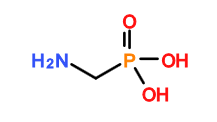 Phytocontrol answers the statutory criteria by making analyses:
- Of the glyphosate (and of its product of degradation the AMPA) under COFRAC accreditation,
- Of the sulfosate or the Trimethylsulfonium cation resulting from the use of glyphosate.